We spend so much time on mastering the perfect skincare routine for our faces, that when you stop and think about your body care, does it even come close?
Research by Gillette Venus found 76 per cent of women place most importance on facial skin. And a third of U.K. women admitted in the study that they don't know how to look after their skin from the chin down. 
Despite the fact that 61 per cent of those questioned admitted to experiencing concerns across their entire bodies, such as dry or irritated skin post-shaving, it seems body care steps are in somewhat of a grey area.
To help breakdown the basics, we're bringing you body care 101 - the basics you need to master to give your limbs the love they deserve.
WASH
Yours Only® CLEAN Body Cleanser is a body cleanser that gently lathers up, cleans deep and nourishes. It is a hydrating, clean and safe alternative to dehydrating soap, made especially for dramatic and sensitive skin. Dermatologically tested on hypersensitive humans, not animals. 
Ilcsi Mineral Cleansing Concentrate is a deep cleanser that can be used all over the body, face and scalp. Due to ichthyolic and herbal ingredients, it is fabulous for dry, chapped skin, as well as skin prone to rosacea, acne or oiliness.
HAIR REMOVAL
Nair Charcoal Leg Mask Hair Removal + Beauty Treatment is a mask for legs that beautifies the skin while removing stubble. Designed to be used in between your regular hair removal routine, Nair Leg Mask is a 3-in-1 treatment that removes hair and stubble, gently exfoliates and moisturises the skin and minimises hair regrowth for long lasting, beautifully soft, smooth legs.
Marzena Sensitive Hair Removal Lotion is a hair removal lotion contains aloe vera and vitamin E and is designed especially for face, bikini line, and underarms. The easy to apply lotion gently removes unwanted hair. Marzena added its unique growth inhibitor to help reduce the reappearance of body hair, for hair-free, silky smooth skin longer than after shaving, or the use of other lotions.
EXFOLIATE
Jurlique Smoothing Body Exfoliating Gel is a skin smoothing body exfoliant that is infused with hydrating rosa gallica flower extract, powerful botanicals and herbal antioxidants with walnut shell powder to lift away dead surface skin cells and impurities. The gel is formulated with a micellar cleansing blend of naturally derived plant-based surfactants and extracts from Jurlique's farm grown yarrow, marjoram and nettle. When activated with water, this cleansing blend forms a luxurious lather to remove surface impurities, revealing freshly cleansed and soft skin.
Emma Lewisham Illuminating Exfoliant is an innovative triple action, 100% natural exfoliant with 76% Certified Organic ingredients, hailed for delivering the most glowing, clarified and smooth skin. Though the exfoliant has been formulated for the face, after testing the product, it works wonders on uneven texture on the arms and legs, as well as helping to minimise ingrown hairs. With its whipped and bouncy texture, it combines physical and chemical exfoliants, AHA and BHA, to stimulate cell regeneration and keep the surface of the skin clear from dead skin cells that can lead to congestion, and block absorption of actives. 
Alpha-H Micro Super Scrub For Face and Body, previously known as Micro Cleanse Super Scrub, is a unique dual-action combination of both chemical and physical exfoliators. With results that rival professional microdermabrasion, this hardworking scrub is your one-minute exfoliation skin saviour. The chemical exfoliant 12% glycolic acid, works to breakdown the bonds that hold dead skin on the surface of the skin, accelerating skin renewal to invigorate a dull complexion and reduce the appearance of uneven skin tone and fine lines.
TREATMENT
mesoestetic bodyshock Local Reducer is a treatment formulated to target accumulation of localised fat in stubborn areas such as saddlebags, hips and arms. It helps reduce accumulated fat deposits in difficult to treat areas while helping to smooth and tighten the skin.
Davroe Body Firming Lotion is a lightweight intensive moisturiser that helps to reduce cellulite, stretch marks and scarring. It also increases skin circulation and collagen production. It is paraben and sulphate free, natural, vegan and Australian made.
Bondi Sands Pure Self Tanning Sleep Mask will leave you waking up to glowing, hydrated skin. Non-comedogenic and dermatologically tested, this deeply nourishing, rich moisturising cream can be applied before you sleep as your night cream and is suitable for those with sensitive skin. 
TOOLS
Manicare SensiScrub 3-in-1 Wet Body Brush is a palm-sized body brush that has two key sides - one with finely tapered bristles to gently cleanse and exfoliate, and the other with thick nodules to massage the body and reveal soft, glowing skin. The delicate and soft bristles are suitable for all skin types, even sensitive skin.
Bangn Body Natural Fibre Dry Body Brush is a limited-edition body brush, part of the Self Love Bundle. Treat yourself with the most indulgent self-care routine which includes the cult classic Firming Lotion, Smooth Skin Scrub and the Limited Edition Natural Fibre Dry Body Brush. The brush helps to exfoliate the skin and remove dead skin cells, stimulate the lymphatic system and help rid the body of toxins, while increasing circulation and helping to break down cellulite. Made with ethical, natural and vegan fibres and materials.
Mitten Classic Thick Turkish Bath Deep Exfoliation Body Mitt has been specifically crafted to replicate the traditional deep exfoliation treatments performed in Turkish Bath Houses. The special coarse texture instantly exfoliates through premium peeling of dead skin cells. It is designed to combat cellulite, speed-up cell turnover, eliminate hyper-pigmentation, keratosis pilaris, ingrown hairs and assist in boosting circulation. It instantly grips onto the skin to peel away the dead skin cells and works in synergy with the skin's own structure and does not scratch or damage. 
Eco Tools Bamboo Loofah brush is made from natural loofah while the handle is made from bamboo. To use, wet brush and apply soap or body wash to scrub hard-to-reach areas. Rinse and hang to dry.
MOISTURISE
We Are Feel Good Inc. Kakadu Plum Body Milk is a luxe face and body moisturiser, made with native Australian Kakadu Plum extract and niacinamide (vitamin B3). Hailing from the driest of Australian climates, this wonder fruit packs a huge antioxidant hit. It is enriched with added skin-loving goodies, including shea butter, aloe vera and vitamin E, and is suitable for most skin types. 
Sisley Paris Velvet Nourishing Body Cream is an ultra-sensorial and high-nutrition body cream that immediately soothes and repairs dry skin. The formula is rich in saffron flower extract, shea butter, babassu and macadamia oils to nourish, moisturise and restore soft-like-velvet skin day after day. The delicate, 100% naturally derived, fragrance with notes of honey and orange blossom combined with the enveloping texture makes this body cream a must have and the perfect addition to any well-being beauty routine.
JERGENS Ultra Healing Hand & Body Cream is a hand and body cream with a non-greasy formula. It contains multi-vitamins and plant proteins, which are known for increasing the skin's natural ability to hold moisture. Packaged in a convenient, portable tube, it comforts skin and provides intensive moisturisation at the ready.
Breeze Balm Honest Hydration Naked Body Cream is the first body care product in the Breeze Balm lineup, and like the cult classic lip balms, its family secret formulation was created 36 years ago by founder, Sammy's father. The cream, which had a waitlist of over 5000 within 24 hours, has been loved by consumers, with 100% of users saying their skin was immediately softer after use and furthermore, 100% said the cream was gentle and did not cause any irritation or reaction. After trying the cream ourselves, we can concur!
OILS
Clarins Sweet Neroli Dry Body Oil has a lightweight, non-greasy formula. The dry finish instantly nourishes, softens and leaves skin silky smooth. Warm and addictive floral notes wrap skin in a soft and tender sense of utter wellbeing.
Ipsum Best Skin Patchouli Rose Body Oil is formulated with a warm and calming blend of pure and organic plant oils. It is richly-scented with patchouli and rose and carefully formulated to smooth and massage easily all over the body. The body oil absorbs instantly leaving skin dry to touch, so you can dress, even in silk, straightaway. The aroma is dreamy, warming and comforting for the senses and is designed to gently fade, leaving the option to wear fragrance. 
PROTECT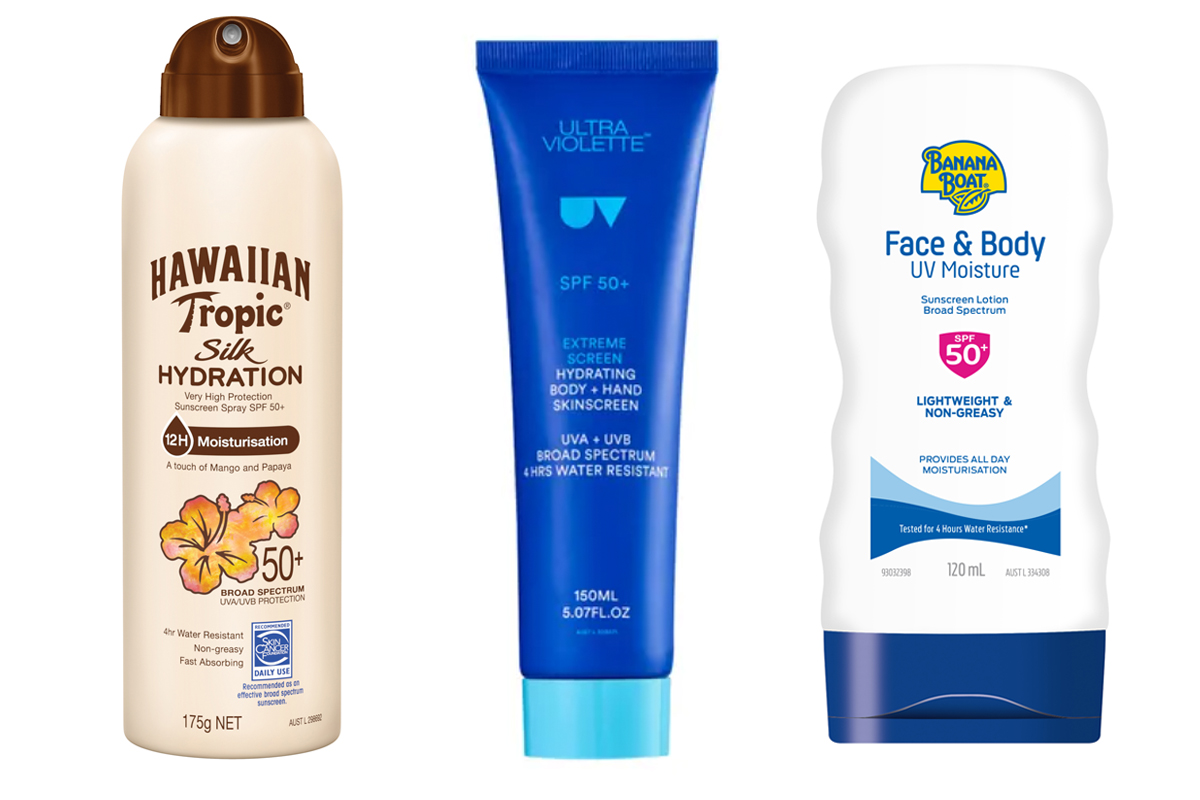 Ultra Violette Extreme Screen is a hydrating SPF 50+ body and hand skinscreen that leaves skin glowing while also providing 4 hours water and sweat resistant protection. Slather on a solid dollop after your shower for your daily dose of glow, hydration and sun protection, but remember – you want at least 5mL per limb, so don't be stingy!
Banana Boat Face & Body UV Moisture SPF50+ is a lightweight sunscreen that keeps your skin feeling moisturised all day. The non-greasy formula is non comedogenic and gentle on skin, perfect for everyday use.
Hawaiian Tropic Silk Hydration Spray SPF50+ is a fast absorbing spray that offers 12-hours of moisturisation, while also providing broad-spectrum UVA and UVB protection. It leaves skin with a non-greasy, silky feel.
WELLNESS
Swisse Beauty Collagen Glow Powder is a premium quality beauty supplement featuring collagen peptides, vitamin C, vitamin E, as well as a blend of acai, goji and grape seed. This great tasting iridescent formula helps supports collagen production and skin integrity from within. Also contains antioxidants, which help reduce free radical damage to body cells.
The Beauty Chef Immune Food™ Inner Beauty Support is the latest addition in The Beauty Chef lineup. The bio-fermented mushroom powder with zinc and vitamin C helps immune system function. It's also formulated with Certified Organic shiitake, plus prebiotic green banana starch and probiotics, which contribute to healthy digestion. 
Main image source: glossier.com