Every now and then, a new skincare hero steals the spotlight in a world where glossy, hydrated skin is the ultimate cool-girl goal.
And while the increasingly popular squalane oil has been making waves in the beauty world for quite some time now, how much do we really know about it? For instance, how is it different to squalene, and why is it produced in so many different ways?
To gain more of an insight into all of this, BD recently sat down with Biossance senior product development manager, Ramya Viswanathan, who was tasked with answering all of our burning questions.
What's the difference between squalane and squalene?
Squalane and squalene are two very similar words, yet that one differing letter can result in a whole host of discrepancies when it comes to stability and efficacy.
To put it simply, squalane is the shelf-stable version of squalene, the natural skin hydrator our sebaceous glands make. Squalene keeps our skin's outer layer moisturised and protected, but as we get older, we make less and less of it. That's where squalane comes in to play: this mega-moisturising molecule beautifully mimics our skin's natural hydration.
"Both ingredients have moisturising and hydration locking properties," Viswanathan told BD.  "However, squalene is not a stable ingredient. Squalene is prone to oxidation, and oxidised squalene on skin can be a factor in many other skin problems, including clogged pores and blemishes. Squalane on the other hand is structurally stable and as a result, does not oxidise. As a result, it is more beneficial as a skincare ingredient."
How is squalane produced?
Although both squalane and squalene have generally been derived from two specific sources in the past (the first generation being shark liver oil and the second being olives), Biossance discovered a way to produce squalane as safely and effectively as the body does – by using neossance squalane – which is ethically and sustainably sourced sugarcane that Biossance uses in all of its clean, plant-based products.
Neossance squalane is made by Aprinnova, a joint venture between Amyris and Nikkol, and it is currently the only manufacturer of sugarcane derived squalane. Amyris, Biossance's parent company, has been one of the leaders in helping to reduce the need for harming sharks when sourcing oil. Using biotechnology, the company pioneered a way to sustainably derive squalane from sugarcane. This methodology makes up about 30% of the market for all sources of squalane globally, saving an estimated two-three million sharks annually.
And while many companies have transitioned from using shark liver oil to the less cruel practise of sourcing olives, according to Biossance, this method also presents its share of downfalls. In fact, crop variability and natural occurring impurities can make this type of squalane oil unpredictable, both in terms of quality and availability. That, Biossnace believes, is why the sugarcane process is the most sustainable process for making squalane steadily.
"Our sugarcane is highly renewable and grown in Brazil where there is adequate rainfall to support the sugarcane growth, minimising the need to rely on manual irrigation," Viswanathan said. "Several additional measures of sustainability are used in our manufacturing plant to reduce our environmental impact. Once the squalane is produced, the leftover material is used to power the facility in a carbon neutral process."
Who should use squalane and what's the best way to use it?
Because the body produces it naturally, squalane oil is generally suited for any skin type, from dry and sensitive, to oily and acne-prone skin – assumably one of the many reasons it has proven so popular. The skin readily receives the oil, and even though it does provide superior hydration, its lightweight texture never feels heavy or greasy on the skin.
Other benefits users can expect to reap include the prevention and treatment of eye area dryness, as well as the prevention of skin irritation due to the oil being colourless, odourless and non-irritating. It also helps to regulate excess oil production, while soothing skin, fighting bacteria and protecting from oxidative damage.
Additionally, since squalane oil works to naturally seal moisture into the skin, it can aid in skincare problems where the skin barrier is disrupted and transepidermal water loss is an issue, making it great for people with acne, eczema and even psoriasis.
As for incorporating squalane oil into an existing skincare routine, it's as simple as researching the brands and products that best align with you, your principles and your ethics.
BD recommends these products containing squalane: Biossance Squalane + Lactic Acid Resurfacing Night Serum, Samson & Charlie Pure Squalane Oil, Kiehl's Crème de Corps Whipped Body Cream, Raww Night Owl Rich Facial Oil, Dermalogica Clear Start Skin Soothing Hydrating Lotion and Nu Skin® Night Supply Nourishing Cream.
What's in store for the future of squalane?
It is predicted that sugarcane squalane will gain even more traction as more brands and companies recognise its environmentally friendly, cruelty-free and effective skincare benefits. In turn, squalane derived from sharks and olives are expected to steadily decline.
"Squalane continues to trend as a powerful skincare ingredient," Viswanathan said. "Squalane is an ingredient that plays well with others and can be used in any skincare routine. On its own, it has a beautiful, lightweight texture that is enjoyable to use."
Below is a highlight of brands already using squalane in general. The graph shows the number of new products released in 2018, with squalane listed as one of the top three ingredients, showing just how popular the hero product continues to be.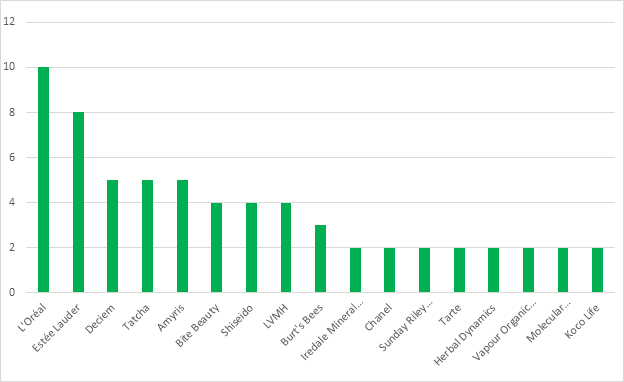 As for Biossance, the brand has announced it has some exciting plans for the future.
It is currently in the process of running more studies on the benefits of squalane in various applications, so stay tuned to find out more.
Image and graph sources: Biossance