With COVID-19 restrictions continuing to ease in NSW, more beauty brands and PRs are starting to get back into the swing of things with the return of in-person events.
However, hosting these events comes with great responsibility. In fact, every care and consideration needs to be taken into account to ensure the safety of everyone involved.
Stark Matthews, for example, is one agency currently navigating beauty events in a COVID world. Below, BD chats with Stark Matthews co-founder and director, Tahira Matthews, who answered all of our burning questions about her most recent event.
What made you decide to host an in-person event?
L'Occitane's Divine launch was the L'Occitane team's gold launch of the year and we knew we had to do something really special. After months of Zoom events and meetings we could see that a bit of virtual fatigue was starting to set in. At the same time, COVID-19 numbers in Sydney were shrinking and restrictions were easing; so we decided on an event concept that we knew would be memorable, enjoyable and (most importantly!) safe for our guests.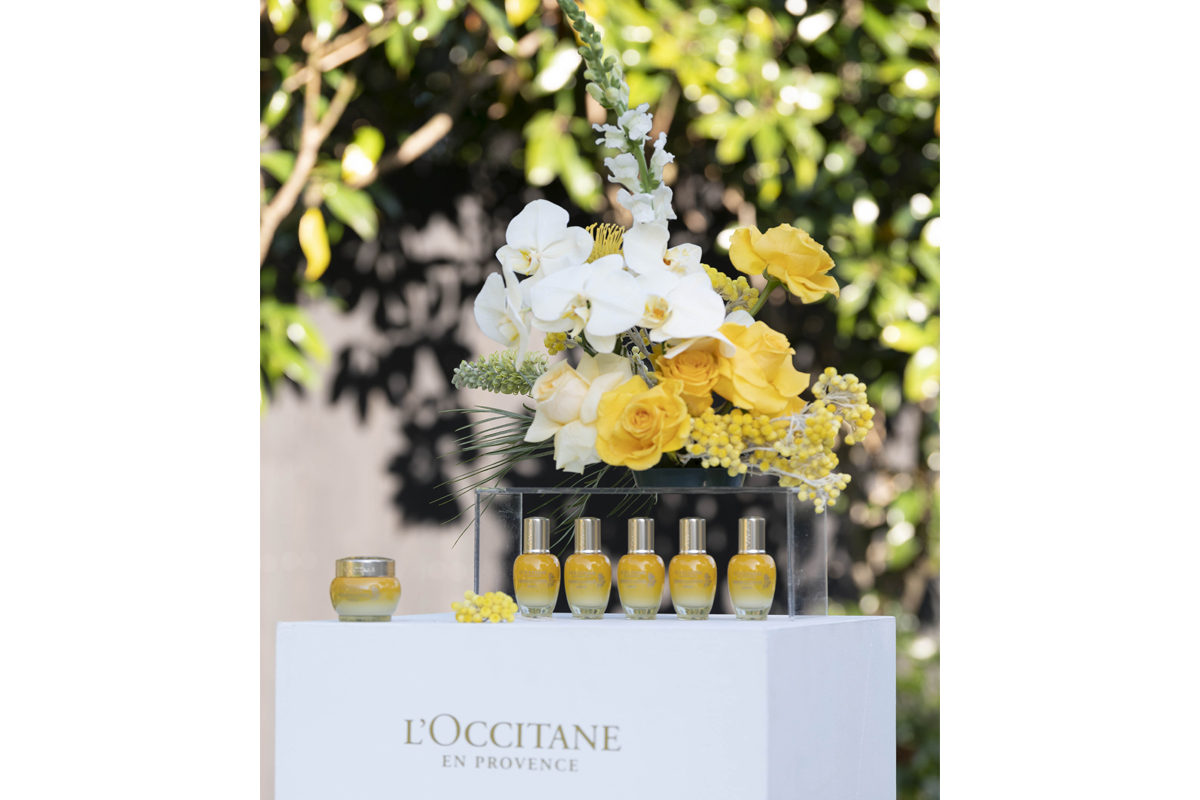 How do you think in-person events compare to virtual ones?
While we much prefer in-person events, virtual events have been a great way for brands to continue to engage with journalists and influencers during the course of the pandemic. For guests it means that you can 'attend' the event from the comfort of your own home, no matter where you live in Australia. You can also wear your PJs and uggs on your bottom half and everyone would be none the wiser. For brands it can be much more cost effective without the costs of venue hire etc and you have less limitations on invite numbers and geographical locations of guests.
During the height of COVID-19 lockdown when events simply weren't a possibility our team was able to create some really creative and impactful virtual events that saw some fantastic results, however the downside is that ultimately you are connecting through a screen – it's just not the same as face-to-face. While we thankfully didn't experience any during our events, there is of course the possibility of technical difficulties and Internet connection issues for your guests. You have many limitations on what you can do and of course you miss out on that face-to-face time I personally love so much.
Was the organisation process more difficult than usual?
I wouldn't say it was more difficult, but COVID-19 was an incredibly important aspect of our event planning as the health and safety of our guests was (and is) our top priority. As per NSW government guidelines we devised a COVID-19 Safety Plan for the event which we communicated to all suppliers and guests; and in every meeting in the lead up to the event we discussed COVID-19-safe measures. We of course also had a contingency plan up our sleeve just in case Sydney was put back into lockdown or restrictions tightened in the lead up to the event.
What kind of hygiene and safety measures were enforced?
We had a very thorough COVID-19 Safety Plan in place which covered so many different aspects but some big call outs were:
- All guests' phone numbers were gathered before the event in case of the need for contact tracing.
- The day prior to the event all guests were sent hand sanitiser and masks.
- Temperature checks upon arrival.
- Hand sanitiser was at the entrance (and throughout the home) for guests to use before entering.
- A COVID-19 safety marshal.
- Small sessions of only four to five guests per session, rather than a larger event style.
- Everything thoroughly sanitised between sessions (and product testers changed between sessions).
- Individual bento box style food for each guests so there was no sharing of food.
How did you enforce these measures while still making the event enjoyable?
Guests commented that they were really pleased to see the measures we had in place and appreciated the extra effort that had been put in to protect their safety. For most of them it was the first in-person event they had attended since COVID-19 hit Australia, so we received a lot of lovely feedback about how people were happy to be able to go back to events again and feel safe doing so. When you plan COVID-safe measures into the event concept rather than trying to enforce safety measures to a pre-COVID style event format, the impact is barely felt. Prior to the event we spoke in depth about every single aspect from prior to guests arriving, right through to them leaving, to ensure that all procedures were put in place seamlessly to avoid impact.
Were there any positives and/or negatives in comparison to pre-COVID events?
There were so many positives. The smaller sessions created a really intimate feel and guests had the opportunity to interact one-on-one with L'Occitane's general manager Pierre Joffre (who also happens to be an agricultural engineer!) and head of training & development Danette Elliot.
And since in-person events haven't taken place in such a long time we had such a wonderful reaction from our guests. They were so lovely and forthcoming with positive feedback and I can't tell you how many people told us that they were so excited to be back out and about at an event again. Additionally, social media sharing skyrocketed as people once again had exciting event content to share to their followers, so Instagram was flooded with the beautiful L'Occitane yellow. It also did help that we had such gorgeous weather and a beautiful location.
It's not necessarily a negative, but we did have to remain cautious at all times about ensuring we were adhering to NSW Government rules and our COVID-19 safe plan. And while this event style worked incredibly well for this event, it doesn't mean that it will for all brands and product launches. We're also lucky that our guests understood and adhered to all of the safety measures, however if this was a consumer event it would be much harder to enforce.
The other thing is that we did (and do) feel for our Victorians friends who aren't yet out of lockdown. Having the opportunity to host this event was so wonderful, but we do recognise how extremely lucky and privileged we are, and hope that Victorians will have their restrictions lifted soon and be able to have a bit of normaily back.
What advice would you give to other brands and PRs looking to host an in-person event?
Definitely do your due diligence when it comes to not only adhering to legal requirements but going above and beyond for the safety of your guests – you really do not want your event to be one that broke the law or contributed to an outbreak that could have been avoided. If your event concept has risks associated, question whether it is the right format. Make sure you have a proper COVID-19 Safety Plan in place and ensure it is communicated to all stakeholders and strictly adhered to. You want your guests to have a great time, but you need to ensure you are meticulous about health and safety. 
Do you think this is the new norm for events moving forward?
Yes I believe so. This was one of the first in-person events and the feedback we got was absolutely incredible. It was clear to us that people are definitely craving that social interaction that can be much harder to achieve virtually. In saying that, we do still believe that there will be a place for virtual events in the future.
To visit the L'Occitane listing and to download hi-res imagery, click here.