If patience is still a virtue, then it seems we are all in trouble. Being time-poor and responsibility heavy is a by-product of the modern age that has shaped our approach to all facets of our lifestyles – particularly when it comes to beauty.
Products that promise instantaneous results have seen enormous growth over the last few years, with consumers continuing to seek instant gratification – from facial masks and self-tans to teeth whitening and skincare products that mimic the benefits of cosmetic injections.
Below, BD looks at some of these products.
SKIN
Swisse Bamboo Skin Refining Exfoliator is a gentle facial exfoliant formulated with bamboo stem powder to help polish and remove dead skin cells, and rice bran water to hydrate the skin for a soft and smooth complexion.
Sisley Paris Black Rose Cream Mask is a soothing skincare mask which instantly refreshes, smoothes and energises the face thanks to its plumping formula that is rich in trace elements, vitamins and anti-ageing active ingredients.
Jurlique Lavender Hydrating Mist is a face mist that leaves skin with instant hydration. This refreshing mist contains antioxidant properties that soothe the skin and help protect and rebalance dryness.
Rodan + Fields RECHARGE Ultra Boost Moisturizing Treatment is a weightless, fast-absorbing gel cream. It instantly moisturises and softens skin as it defends against visible signs of stress to achieve a lasting, healthy-looking glow.
The Body Shop Almond Milk with Oats Instant Soothing Mask is a creamy, 100% vegan comfort mask. It relieves dry, sensitive skin from feelings of tightness and itchiness, and gently exfoliates to leave skin feeling softer, smoother and recharged with moisture.
Skin Virtue Future Advanced Line Filler is a rapid wrinkle filler that provides hydration and an instant filling effect to wrinkles. It is formulated with patented biotechnological advanced dehydrated hygroscopic hyaluronic acid, with targeted filling technology.
Remescar Instant Facelift & V-Shape is a facial cream that is formulated with advanced technology to penetrate skin much faster than other topical products. It lifts the skin instantly, re-contours the face and limits the visible signs of sagging skin.
DU'IT Tough Lips is a long-lasting intensive moisturising lip balm that deeply hydrates and restores dry, chapped lips. It is clinically proven to repair, moisturise and protect lips with visible effects instantly.
TEOXANE Deep Repair Balm is a luxurious soothing balm that has a moisturising and calming action to help repair and restore irritated and sensitive skin. With skin-repairing properties, Deep Repair Balm provides the optimum balance of RHA® patented process to impart instant hydration while helping to soothe and comfort sensitive skin.
Biossance Squalane + Marine Algae Eye Cream is an eye cream that delivers a visibly smoother, lifted look with first application. Its melt-in texture delivers deep hydration with a crease-free canvas for makeup while the natural pink tone colour corrects without using mica.
Ella Baché Instant Glow Mask is a super thin bio-cellulose sheet mask that infuses its supercharged formula of active ingredients into the skin to rebalance and fast track the skin to plump, dewy hydration.
BODY
Hawaiian Tropic Express 1HR Self Tan is an express tanning foam that delivers an easy glow in just one hour. It pampers the skin while tanning with its ultra-light formula that contains vitamin E to help hydrate the skin.
Skinbox Instant Hand Sanitiser is a hand sanitiser that kills 99.9 per cent of germs without using water. It has a non-sticky formula, as well as moisturising ingredients such as vitamin E to keep hands soft and smooth.
Mitten Black Thick Turkish Bath Deep Exfoliation Body Mitt is a body mitt that has been specifically crafted to provide an intense Turkish Bath Deep Exfoliation Treatment. Its ultra-coarse texture has been designed to target specific skin concerns. It instantly grips onto the skin to peel away dead skin cells.
Aveeno Dermexa Fast & Long-Lasting Balm is a balm that instantly relieves dry, itchy skin for up to six hours. The Aveeno® brand has harnessed the soothing power of ACTIVE NATURALS® oatmeal to provide intensive and long-lasting hydration to help relieve and soothe dry, itchy skin.
Clarins Sweet Neroli Dry Body Oil is a body oil with a lightweight, non-greasy formula. It has a dry finish that instantly nourishes, softens and leaves skin silky smooth. Warm and addictive floral notes wrap skin in a soft and tender sense of utter wellbeing.
Jbronze Shimmer Instant Illuminiser is a lightweight instant bronzing cream with light reflecting particles, illuminating skin and providing a radiant, healthy and sun kissed glow. The addition of natural colouring additive, caramel, gives a bronzed appearance, instantly, leaving skin glowing.
LYCON Hand and Body Lotion – Pink Grapefruit is a hand and body lotion that instantly boosts hydration from head to toe. The non-greasy formula is enriched with pro-vitamin B5, jojoba oil and vitamin E for their anti-ageing properties, soothing benefits and long-term protection. 
SKIN DOCTORS™ Instant Neck, Chest & Hand Lift is a clinically proven skin tightening agent that lifts and smooths sagging skin in just one minute. It contains a complete system of anti-ageing cosmeceutical ingredients to provide an instant noticeable effect, with a combined long-term biological anti-wrinkle effect.
Rimmel London Sun Shimmer Self Tan Mousse is a self-tanning bronzing mousse that provides an instant, even, natural-looking tan. It is formulated to dry in two minutes, develop in one hour and last for up to seven days.
HAIR
John Frieda Detox & Repair Shampoo and Conditioner are formulated to remove impurities. This range works on clarifying the hair's surface so that conditioning treatments can penetrate the hair more effectively.
ELEVEN Australia MAKE ME SHINE SPRAY GLOSS is a new and improved weightless finishing mist that smooths, tames flyaways and creates mirror-like shine in seconds. It is formulated with additional anti-humectant properties to block moisture, decrease frizz and control flyaways.
I Heart Revolution Rainbow Tones are a vegan, cruelty-free, ammonia-free and peroxide-free hair colour range. Rainbow Tones are great for those invested in long-term fashion colours. They are infused with pumpkin seed oil, argan oil, and a specially formulated conditioner, resulting in hair feeling conditioned, but not weighed down.
Keracolor Color Clenditioner Colour Shampoo Espresso is a rich, warm and deep shampoo that is perfect for faded brunettes or dark blondes wanting to be darker. It instantly infuses hair with direct dye pigments for a boost of colour.
Davroe Anti-Dandruff Lotion Spray is a lightweight leave-in treatment that reduces dandruff and flaking, while eliminating itchiness and redness. It also cools and relieves the scalp instantly.
Johnson's No More Tangles Detangling Spray is designed to be used on wet or dry hair to instantly unlock knots and tangles, while also improving hair manageability for easy combing and brushing.
De Lorenzo Instant Allevi8 Shampoo and Conditioner are designed to gently moisturise, strengthen, replenish, smooth and calm frizzy hair, building its strength. Formulated with kakadu plum, cactus flower, yucca, cucumber, rice amino acids, avocado, aloe vera extracts, sunflower oil and anti-static properties.
Original & Mineral Dry Queen Dry Shampoo is an instant hair cleaner that absorbs unwanted oils, leaving hair full of texture and body. Lily pilly, naturally rich vitamin C, acts as a natural collagen plumping the hair, while quandong helps keep the hair healthy and nourished.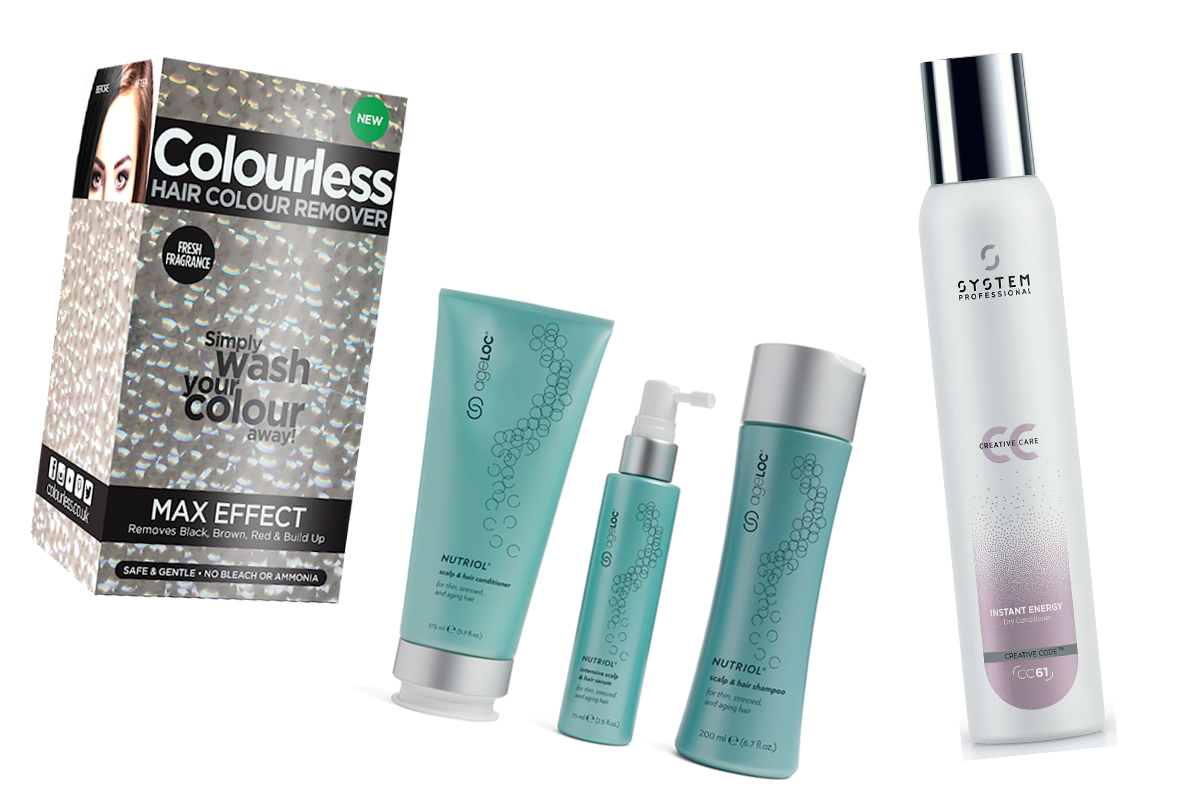 Colourless Max Effect is a hair colour remover for stubborn, permanent hair dye, that does not use bleach or ammonia. It is best suited to help remove stubborn build up and dark colours. This formula is ideal for blacks, reds, browns and dark blondes.
Nu Skin® ageLOC® Nutriol Scalp & Hair System is a complete hair rejuvenating system. The system's products contain powerful ingredients for a scientifically advanced treatment that, when combined with ageLOC® Galvanic Spa, delivers instant benefits to the locks and lasting results down to the roots.
System Professional Creative Care Instant Energy is a hair treatment that is formulated with the EnergyCode™ Complex into a dry spray form, which delivers instant benefit action.
NAILS
ulta3 Dark Summer - Nail Polish is a quick drying, hard wearing and colour-rich nail polish. Available in: Thunder, Sangria and Evolve.
essie Nail Care Apricot Oil Cuticle Treatment is a nail treatment that absorbs quickly to instantly condition and protect cuticles from dryness, and provide nourishing moisture. With a formula and a brush that takes advantage of the very best salon-professional technology.
Revitanail Instant Dry Drops is a top coat that helps to dry nails in seconds. The formula has been designed to protect nails from smudges, nicks and scratches. The drops are also formaldehyde and toulene-free.
Mavala Switzerland Correcteur is a felt-tipped touch-up pen containing nail polish remover to instantly correct smudges and manicure mistakes.
Manicare Miracle Shiner creates the most brilliant shine in two easy steps: Buff using the green surface to smooth ridges and stains, then use the white surface to achieve the most lustrous high shine. It has extra flexible cushioning for effective buffing action and a revolutionary glossing formula that buffs dull-looking nails in an instant.
OPI Core Collection is a collection of fashion-inspired core shades in the OPI range. OPI nail polishes are easy to apply, are chip-resistant, non-streaky and fast drying.
Revlon ColorStay™ Gel Envy™ Longwear Nail Enamel is inspired by salon gel nails to provide a long-lasting colour and shine. The polish instantly wraps nails in a shatter-proof shield that lasts up to 11 days.
Sally Hansen Miracle Cure for Severe Problems is a strengthening, anti-peel treatment that works to instantly fortify and reinforce nails that are prone to dryness, breaking, splitting and peeling. 
HEALTH
Femfresh Pocket Wipes are everyday intimate hygiene wipes that are formulated especially for women. With soothing calendula and aloe extracts, they are specially made to cleanse and refresh the most sensitive area of the body.
First Response Early Result Instream Pregnancy Test is a pregnancy test with patented sensitive technology, which detects very low levels of the pregnancy hormone for faster results. The test can detect the pregnancy hormone as early as six days before the day of a missed period.
Numit Numbing Cream is a topical anaesthetic cream containing two active ingredients that work together to help provide a skin-numbing effect, so you can tough it through a range of common minor superficial medical and cosmetic procedures, including vaccinations, tattoos, laser hair removal or even skin resurfacing.
Absolute Essential Ceramic Aroma Diffuser is a premium quality ultrasonic aroma diffuser that is quiet, easy and efficient to use. Using the ultrasonic method rather than heat, this unit is incredibly safe and the therapeutic molecules in essential oils will remain at an optimum natural size, ensuring the highest potential for fast absorption into the body. 
Silic 15 Cream forms a barrier to shield the body from water, sweat, detergents and other irritants. It is non-sticky, non-greasy and pH-balanced. The low-irritant formulation is free of lanolin and perfume, and is suitable for the most sensitive areas of the body. 
DENTAL HYGIENE
iWhite Instant 2 Whitening Kit is an at-home teeth whitening kit. It is powered by unique triple teeth whitening technology, which whitens the teeth up to eight shades instantly, all while strengthening the teeth structure and restoring the enamel.
Ultrafresh Breath Spray - Fresh Mint offers an alternative and convenient way to achieve clean, fresh breath whenever and wherever needed. These sugar free sprays help kill the bacteria that cause bad breath.
Oral-B 3D White Whitestrips are thin, flexible strips that are coated with a tooth whitening gel containing hydrogen peroxide. Designed to conform to the shape of the teeth, they work by holding the whitening gel to the teeth.
Pearl Drops Pro White contain Perlite used by dentists to effectively yet safely whiten teeth. They are clinically proven to remove even the most stubborn stains from tea, coffee, red wine and smoking.
LUSH Boom Toothy Tabs are toothy tabs that are formulated with gunpowder tea and charcoal for freshness. Nibble one between teeth for a blast of sea salt, aniseed and black pepper with the taste of spicy cola.