From eau de parfums and candles to body wash and even dry shampoo, Byredo has slowly been expanding its reach. And now the chic fragrance brand is making its way into makeup.
Yes, you read that correctly! According to reports by WWD, Byredo founder, Ben Gorham has teamed up with makeup artist, Isamaya Ffrench for a makeup collection due to launch on October 1.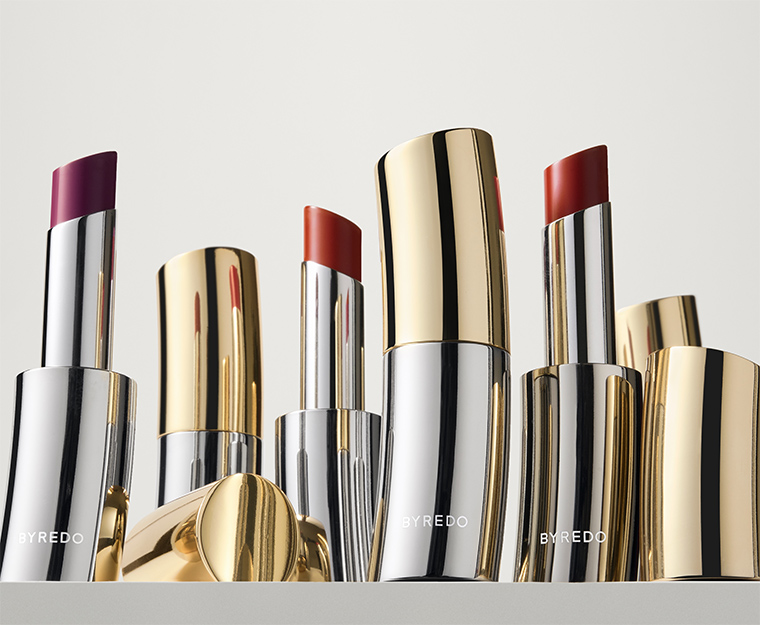 "Colour seemed like a very visual, visceral manifestation of the brand, and after working in this very invisible medium for many years, we had very strong ideas about what that could be," Gorham told the publication, referencing his years creating fragrances.
"It wasn't until I saw Isamaya's work probably two and a half, three years ago [on Instagram] that I started to feel like somebody existed with a shared sensibility that could really bring this to life for me."
As for what the collection will consist of, think curved, metallic packaging, housing 16 blendable multi-use colour sticks, seven satin lipsticks, eight matte lipsticks, a black mascara, liquid eyeliner, and a lip balm. Eyeshadow palettes are also on the way, to be released in the coming months.
Ffrench posted a sneak peek on IG, sharing the collection has been two years in the making.
"I wanted to have a product that wasn't really defined by your skin tone and how you should wear it," Ffrench told WWD. "We're choosing unconventional characters as the muses for some of our collections, and it feels a lot more authentic than being just like, 'here's another pretty model.'"
The brand's first face is "a greenish-red alien-person," that was computer-generated by artist Jesse Kanda. "It was important that we lead with an image that wasn't one type of person," Gorham said. "We wanted to use colour in the broad sense to empower and inspire people to express themselves and ideas."
Byredo is currently stocked in MECCA, so we will be praying to the makeup lords the collaboration reaches Aussie shores. 
Main image: themaxwellnote.com; images in body text: Byredo