International Women's Day is all about celebrating women for their strength, passion, courage and resilience.
So what better way to shine a light on this special occasion than by putting together a list of all the brands and businesses honouring IWD, as well as some of the amazing female founder and entrepeneurs behind the scenes?
INITIATIVES AND CELEBRATIONS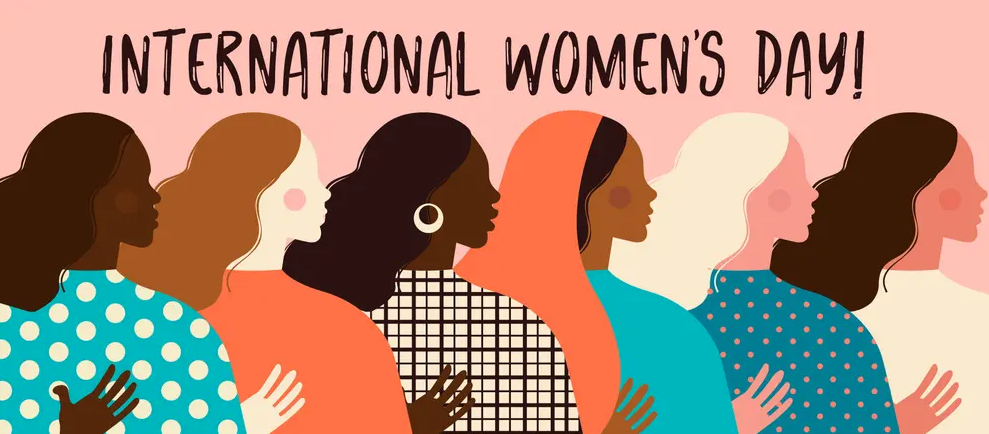 This International Women's Day, DMK head of education, Debbie Dickson, and media personality and business woman, Deborah Thomas, have filmed an interview that will be aired to the DMK skin therapists/owners. All donations from the registration will be going to Camp Quality, which Dickson is CEO of.
Biologi founders, Lucy Macdougald and Ross Macdougald, have been working hard in the lead up to International Women's Day by fundraising for RizeUp Australia.
RizeUp Australia assists those affected by domestic and family violence to transition from a life of fear and violence to one of safety and community. RizeUp is a vital part of the service system across Australia and provides fast, flexible solutions to women and children in desperate situations.
The Macdougalds are both survivors of Domestic Violence, so they are passionate about the work and support that RizeUp provides. According to them, this charity is absolutely paramount for the women and children who are affected by DV on a daily basis.
As part of their campaign to fundraise $10,000 for RizeUp Australia, they will also be starring on national TV. The Producers of Australia's newest travel series "Adventure All Stars" have thrown their support behind their crusade to raise funds and have provided them with a feature role in an upcoming television episode.
Clean science serum specialist brand, BOOST LAB, is launching a 25% storewide sale on its website, beginning and ending on International Women's Day.
With a spirit of innovation at the heart of everything it does, iconic Australian skincare brand, Ella Baché, is launching a "BOLD" new digital content hub to celebrate pioneering Australian women this International Women's Day.

The digital platform, housed here, will host content from a range of Australian beauty insiders, business leaders, inspirational creatives and Ella Baché skincare experts on what being BOLD means to them and the beauty practices that both bring them joy and assist in loving the skin they're in.
Ella Baché's 'BOLD Beauties' vertical will feature leading beauty industry insiders in the coming months, including Sherine Youssef and Sarah Tarca of Gloss.Etc, Grazia contributor Emily Algar and ex acting beauty director of Marie Claire Australia Iantha Yu.
Continuing the conversation on from her 2019 debut novel 'Bold Moves', Pippa Hallas will also be officially launching "BOLD Women", an interview series discussing bold moves with interesting and entrepreneurial Australian women.
Glasshouse Fragrances will pre-launch one candle from its Mother's Day Collection, an 'Ode to Women.' Founder Nicole Eckels always looks to work with new and international artists to honour them and bring their talent to a broader audience. This International Women's Day, she has worked with Weronika Marianna, who has created a magnificent collection to celebrate the female form in all of its iterations.
With calming Lavender, sweet white honey and cashmere essence, this comforting blend of fine fragrance is wrapped in a limited-edition glass jar with custom designs by Marianna.
Celebrating the female form in all of its iterations, Ode to Women is a tribute to the women in our lives we admire and adore.
L'Oréal Paris Australia has announced its collaboration with local role models, and Women of Worth; Australian singer-songwriter Jessica Mauboy, Australian Cricket legend and 2020 ICC Cricketer of the Decade, Ellyse Perry, domestic violence campaigner and the 2015 Australian of the Year, Rosie Batty and Former MasterChef runner-up, artist and author Poh Ling Yeow.
The announcement, for IWD, marks 50 years of L'Oréal Paris' iconic tagline "Because I'm Worth It." These four simple words have become an iconic declaration of beauty and empowerment, bound to the time of their creation and yet have proven to be timeless and still as relevant as ever today.
"Self-doubt can be a major hurdle for every single one of us, whether it's a quiet voice underestimating our own abilities, a moment of hesitation before going after something we want or constantly second guessing ourselves," L'Oréal Paris Australia marketing director, Raagjeet Garg, said. 
"L'Oréal Paris wants to encourage Australian women to reject their insecurities, celebrate their individuality and help further empower them on their journey to self-fulfilment. Our message to Australian women is, you are all worth it!"
This International Women's Day, Clarins celebrates the women who inspire women to #LiveBeautifully, with the launch of a series of 'Clarins Stories' short films: each with an interview dedicated to a Clarins employee from around the world.
First to be featured will be international training manager, Perrine Monce, and head of customer experience, Digital & CRM, Charlotte Pats.
Viewers can learn more about each interviewee as they talk about life, empowering other women and what it means to them to live beautifully. The films will be posted to Clarins' social media platforms from March 8, 2021.
As a tie in for the local market, Clarins consumers will also be able to indulge in a complimentary International Women's Day Gift: from March 5 to 10, guests who spent $90 or more on product at clarins.com.au will receive a complimentary 5-piece gift.
To find out more about this special offer, click here.
This International Women's Day, L'Occitane is bringing a new limited-edition Solidarity Hand Cream, where 100% of profits are donated to finance projects to promote women's leadership in Burkina Faso.
L'Occitane's limited-edition Solidarity Hand Cream made with 20% shea butter, emphasises the ancestry of the women in Burkina Faso and immerses us in their culture with an intense and subtle floral fragrance of their home: Hibiscus sabariffa. The scent combines notes of red hibiscus, hibiscus petals, ylang ylang, jasmine and vanilla.
The Beauty Chef is working with i=Change on lifting the usual $1 per sale to $5 per sale for March 8 (IWD). This will see The Beauty Chef donate five times more than usual. 
"Happy International Women's Day!" founder, Carla Oates, posted on Instagram. "For me, today is about acknowledging the brilliance and resilience of all girls and women. It's a moment to reflect on how far we've come – and how far we still have to go. It's a reminder to acknowledge and celebrates the great wins, the inherent awesomeness and absolute beauty of being a 'she.'
Supporting women and small businesses has always been at the heart of Pinterest.
In light of International Women's Day and the challenges that women around the world are facing, Pinterest is launching a special edition of the Pinterest Shop featuring 25 female-owned and mission-driven businesses from around the world. including ModiBodi and Koh Living in Australia.
Additionally, throughout the month of March, Pinners will be able to discover inspiration in the Today tab from local female leaders sharing their tips, learnings and ideas for how to build the life and business you love, such as Lucy Feagins, Samantha Wills, and Eleanor Pendleton.
"Around the world, working women were the most affected by changes we saw in 2020 and so we launched the International Women's Day Shop as a way to support and show our commitment to small businesses," Pinterest head of content and creator partnerships, Aya Kanai, said. "Pinterest has always been the place to be inspired and discover new brands. We are thrilled to give these women-run businesses a platform to shine."
CELEBRATING THE WOMEN BEHIND THE BEAUTY BRANDS
PB SKN founder, Jemma Salisbury
Salisbury always wanted to be her own boss, but she was never encouraged to pursue a career in beauty (a field she always loved), so she did what was expected of her – she studied and landed in a role at the University of Queensland in a completely different field of work.
But because she never felt content, Salisbury eventually resigned and left to work for her parents' textbook publishing company, while also beginning to focus on her own interests – which in turn led to her launching two different businesses.
"I believe in following your passions and if your gut is telling you to do something, then do it, even if there is resistance from others around you," she said. "I'm one of those people who have a million ideas running through my head at once."
Salisbury opened her successful business, Bespoke Brows, before launching another brand in October last year – PB SKN – a natural skincare business for active lifestyles.
"My inspiration for PB SKN literally just came as a lightbulb moment one day, but stems from my passion in beauty, health and wellness," she said, explaining that when she decided to start a family, she looked into natural ways of getting her body back into balance after years on the contraceptive pill. This led to a path of researching into chemicals and hazards in our modern-day environment that impact our health and wellbeing.
"I was horrified by what I was learning," Salisbury told BD. "I went nuts examining and analysing every ingredient in every cosmetic product that I used, replaced all my cosmetics and cleaning products with the most natural versions I could find, and switched our diets organic where possible. 
I realised that women like myself who try their best to live a healthy lifestyle by eating well and keeping fit weren't aware that their conventional skincare could actually be sabotaging their health efforts, nor did they consider that an active lifestyle takes an even bigger toll on their skin and requires more specific care."
Skin Virtue founder, Nina Gajic
Skin Virtue is the brainchild of Australian founder, Nina Gajic, who spent years struggling with the effects of the Australian weather on her skin.
"My experience with skin allergies and sensitivity was a long and hard journey," she said. "Ultimately I started Skin Virtue to address my own skin concerns. Twelve years ago I opened up a clinic in Eastern Europe, where I worked with our team of board certified dermatologists and plastic surgeons to address cosmetic procedures and skin sensitivity, as well as developing aftercare for patients to take home."
Gajic devoted decades to clinical medical research, which led to the development of the innovative skincare that is Skin Virtue. It was her study of formulation science that enabled her to find equilibrium between science and nature.
The focus of Skin Virtue is to help heal sensitive, problematic, irritated and allergic skin while incorporating cutting-edge skin science which delivers anti-ageing efficacy and results. 
tbh Skincare founder, Rachael Tyers
After seven years of struggling with her own acne, Rachael Tyers founded her brand as she wanted to bring a completely new patented acne treatment into the direct-to-consumer market.
During her battle with acne, Tyers switched between antibiotics, the contraceptive pill and prescription topical treatments, before being introduced to what is now called the tbh acne hack cream. To her delight, the cream cleared her breakouts, inspiring Tyers to get the product (and eventualluy an entire acne hack line) out to others who needed it most. Thus, tbh Skincare was born.
As a female-founded and run business, Tyers likes to think that tbh has developed a culture that embraces and inspires women to be their best, most confident and most empowered versions of themselves.
"At the end of the day I like to think that this comes down to providing a safe space and embracing people as they are, irrelevant of how they may identify gender wise," she said. "One of our core values is authenticity, and with our product we aim to bring people the confidence they require to be their most authentic selves."
When it comes to International Women's Day, Tyers believes it's a great time to recognise the talented, empowered and inspiring females around us. She told BD that it's also a time to acknowledge both the progress that has been made, but more importantly, the steps that still need to be taken in order to reach a more equal and balanced society for women.
"Embrace your naivety" she added. "As a young female in startup land, I think there are a lot of things that I don't know and am yet to learn, but there is so much beauty in that. I think the best advice I have ever read is to lean into that, and embrace your naivety. I think people become jaded, and their past experiences and knowledge might actually hold them back from embracing new opportunities and throwing caution to the wind."
Yours Only® founder, Ashli Templer
Ashli Templer is the founder of ideation and content agency Pep Creative, skincare brand Yours Only® and podcast Allergy Proof®.
Templer started Pep Creative in 2017, to change up the way agencies work with clients; to become so integrated into their world, that they are basically one of the team. They collaborate with incredible brands across all industries, develop their social media strategies, produce relevant content and connect them with their dream target audience.
Personally, Templer has suffered with allergies and intolerances her entire life, going from specialist to specialist. She finally found a dietician in 2018 who knew what was wrong from the second they met.
There was just one problem: trying to find products that were skin, body and bathroom approved. If something was allergy friendly, it contained sulfates and parabens, which are known hormone disruptors. If something was free of common irritants, it was substituted with natural ingredients that trigger allergies. Templer was left with clinical skincare brands that didn't speak her language.
"If I did find a medicinal product that I could tolerate, I was too embarrassed to put it on my vanity. It was one or the other. So I decided to do something about it," she said, which is how Yours Only® was born.
Launched in August 2020, CLEAN + COAT (the brand's products) are the first in a series of whole system skincare designed with allergies, intolerances, skin conditions and auto-immune diseases in mind.
But Yours Only® is much more than just a skincare brand. By purchasing Yours Only® , you're not only improving your daily routine, but donating to allergy research, too with a percentage of profit from each bottle sold going towards RPAH Hospital in Sydney.
ghd creative artist, Sheree Knobel
Sheree Knobel has been part of the style squad for many years now and sees International Women's Day as a great opportunity to celebrate women in every industry. For her, the day is an opportunity to reflect on the amazing things women have achieved over the past few generations. Knobel believes we need to do this more in order to encourage younger women to go out and love and live life to its fullest potential.
As a member of the ghd style squad, she believes that when your hair looks amazing, you feel amazing. And with that comes an air of confidence that is a force to be reckoned with. She believes that ghd gives her the tools she, and other hairdressers, need to teach and share with clients how to manage their hair at home so they can have that good-hair-day feeling every day, not just when they walk out of the salon.
In the hairdressing industry, Knobel has the privilege of working with a new and younger generation of women who we are empowered to take on the world of hairdressing and make it their own. Her salon is a safe and nurturing space in which her team is encouraged to try new things and explore the many opportunities that the salon provides for them.
You will often hear Knobel use her favourite quote, "Where your attention goes, your energy flows." For her, it's about more than just hair, it's about finding a purpose in life. Knobel knows that a business owner is an integral part of a team member's life journey, so she looks to make sure their time is positive and pushes them to grow personally, as well as professionally.